Posted On 2020-04-02
"Sitting down with job candidates and gathering the information needed to determine whether or not they are right for the role is a tough task – and one that proves interviewing is just as difficult as being interviewed", said Sachin Kulshrestha, Managing Director, RGF Professional Recruitment India.
This is especially true when the pressure is on to assess quickly if a candidate is a right fit for the job. You not only have to find someone with the right experience and skills, but someone who shares your company's values and fits well with the culture.
But the good news is there are some simple things you can do (and some you can avoid!) to not only be prepared, but to also make the entire interview process positive and productive:
1. Gather as much information as possible about the candidate
The first thing your internal recruitment team needs to do when considering a new candidate is to thoroughly review the person's profile and work history.

This should go beyond ensuring they match job description and hiring criteria according to any HR technology you may be using – it is essential to assess fully the candidate's résumé, cover letter and online profile (if relevant) in closer detail.

Mark off points that need clarification or explanation, such a key career milestone, gaps in work history or potential red flags that may reveal deeper aspects of the candidate's personality
2. Ask the right types of questions
It's crucial for you to tailor your list of key questions to be based on the role and hiring criteria – but you must also include questions of different styles. To do this, a good exercise can be to break down questions into a few key buckets:

those that assess the candidate's ability to adapt and evolve quickly

those that help evaluate the candidate's current skills set and how well suited they are for the role

those that evaluate how well the candidate understands the pulse of their industry.
More importantly, remember to approach questions about experiences with previous employers or those that pry too far into a candidate's personal life with caution.
3. Replace easy-to-practice questions with problem-solving scenario
More often than not, questions asked by hiring managers are so predictable candidates have rehearsed their answers.In order to receive candid responses and have a real sense of the candidate, prepare questions and scenarios that assess a candidate's ability to solve problems. For example, rather than asking the candidate to recount a time they faced a workplace challenge, provide them with a description of a problem they could face on their first day and ask them to walk you through the broad steps they would take to solve the problem.
4. Make it conversational
Job interviews are perceived by most people to be very stressful situations – so an important step is to put candidates at ease, even before they sit down. Choose a comfortable setting and take active steps to ensure the interview is more like a conversation and not an interrogation.

Try sitting side-by-side, as this will invite for a more relaxed and candid conversation and environment and start off by just chatting rather than diving right in to tough questions. Make it a two-way conversation – this not only helps the candidate open up, but also lets them know you are genuinely interested in them, beyond their skills and attributes.

5. Share enthusiasm about the role and company
The goal of every interview process is to hire the best talent. But it's important to remember that it isn't just your company choosing a candidate – the candidate has to choose your company, too.

In order to successfully hire your top choice for the role, the first step is to convince candidates that your company is the best choice for them. And while it is important to gauge carefully how invested and excited the candidate is about the role, don't feel as if you shouldn't show your own enthusiasm for your profession and the company – it could help put them at ease and will leave the candidate with an endearing impression.
6. Avoid unconscious bias
More often than not, first impressions make a huge impact during interviews – and it's possible that if a candidate does not match up with what you think a successful candidate will look like, you could unfairly discount them.


"Averting unconscious bias is vital, as it can lead to unfair judgments, overlooked attributes, or discrimination," said Kulshrestha. "Viewing each candidate as an individual and spending adequate time to evaluate is one step forward in minimising these biases during the recruitment process and creating a diverse and inclusive workforce."

Another way to avoid unconscious bias is to consult a professional recruitment agency that focusses on hiring diverse candidates. These organisations understand the importance of incorporating inclusion in an organisation and have the resources to identify a diverse pool of candidates.
By applying these six tips, you'll not only be able to make the interviews you conduct more interesting and genuine, but will be able to have a very good idea of which candidates are the right fit for the role, the team and the company.
Are you looking for a job?
RGF Professional Recruitment handles hiring for top multinational and can connect you with exciting opportunities in China.
Send your CV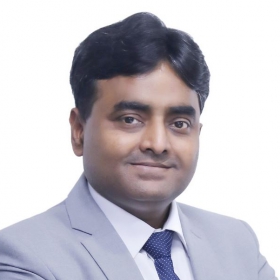 Sachin Kulshrestha
Managing Director
RGF Professional Recruitment India